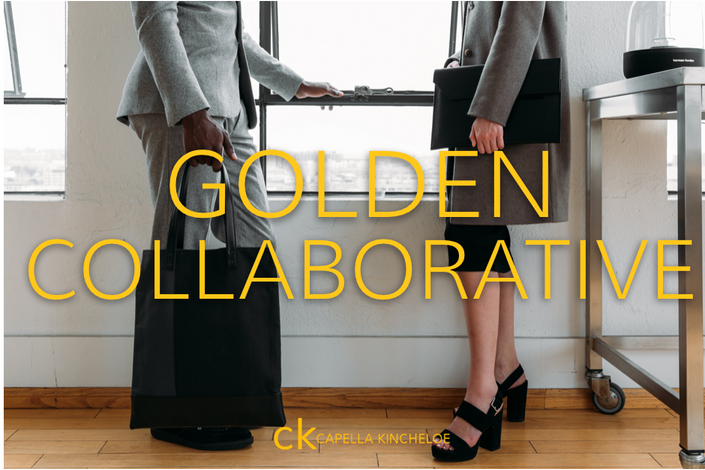 The Golden Collaborative
A collaborative community of designers helping each other face the challenges of running an interior design business.
Imagine how great would it feel knowing you have someone to turn to for advice... someone to vent to ... someone to bounce ideas off of ... someone who knew what it was like to run an interior design business.
What if it was a whole group of designers who celebrated your successes, who challenged you, and who lifted you up?
→The Golden Collaborative is six months of thoughtful conversations, support, and community.
Feel like you're lacking real relationships with designers who you can turn to for feedback and advice?
This is the place to ask the hard questions, get different perspectives, learn from other designers, create a community of colleagues to support you.
This is a mastermind focused on collective participation and contribution. I facilitate each meeting, but you'll be learning and assisting each other.

→This is what #collaborationovercompetition looks like.
Twice Monthly Calls
With two calls every month, you'll be able to create and foster relationships with other designers. Each month will focus on a theme collectively chosen by the group. The calls will be live video conferences and include time to discuss what is going on in everyone's business as well as the focused topic discussions. I will facilitate and provide prompts so that everyone feels comfortable participating and contributing to the conversation. You'll interact with the larger group as well as in small breakout sessions to dive even deeper.
Private Online Community
Sometimes you can't wait for a group meeting so there is a private community that will be open to you any time. This is the place to engage and create community as well as continue conversations between calls.
Monthly Workbooks
As a complement to the monthly calls you'll receive a digital workbook on the monthly topic. These are for you to sort through your thoughts and ideas and help create mindful conversation on the topic. This is a way to up-level your discourse.
Conversation. Support. Community.
Hi! I'm Capella
I want designers to feel confident and proud of their industry and the work we do. I believe in collaboration and supporting each other. Forget secrecy and competition, I am here to support and encourage, not to mention talk about all the business "secrets" no one else wants to share.
I've been an interior designer for over 10 years now, starting my career working for one of the top interior designers – Michael Smith. But more importantly, I've worked with hundreds of designers on growing their businesses. And what I hear again and again is that being a designer is isolating. We want (and need!) more community and collaboration.
Many other design business consultants have never worked as an interior designer before. They haven't worked one-on-one with clients and they can't understand the delicate balance it takes. Interior design is a unique job, unlike any other. When you succeed, we all succeed. Learn more at www.capellakincheloe.com
Frequently Asked Questions
How long do I have access to the Collaborative?
You're committing to 6 months. You'll have access for those six months.
Why a monthly subscription?
I created this Collaborative to foster real relationships based on mutual respect, trust, and accountability. That can't happen unless you have regular, sustained interaction in the group.
What if can't make all the calls?
This is a mastermind and nothing will be graded so it's okay to miss a call here and there. The calls will also be recorded so you can always watch them when you can. There are two calls per month, so if you miss one you can join the other. The point here is to create an engaged, trusting community and that requires regular, consistent participation.
When does the mastermind start and finish?
Mastermind starts in January and ends in June.
When are the calls?
Calls take place the second & fourth Wednesday of each month at 9:30 am Pacific. (If this is not a good time for you, please do not enroll.) Calls will last between 60-90 minutes.
What's the refund policy?
If after the first meeting you don't feel that it's a fit, you can cancel your subscription and won't be charged for the remaining months. The Collaborative relies on each person being committed, showing up, and participating, so we kindly decline cancellations after the first meeting and all refunds.
Requirements to join:
Because this is a mastermind, all members must have a minimum level of experience. The following are the minimum requirements to join.*
Must have a full-time interior design business (sorry no side-hustles or part-timers)
Must have been in business full-time for a minimum of two years. Everyone must have minimum level of experience to contribute and participate.
Ready to commit 5+ hours a month for 6 months to The Golden Collaborative.
*Applications not meeting these requirements will be politely declined and refunded.

Free Bonus
2019 Interior Design Business Planner
Get my 63-page business workbook full of prompts and inspiration to get you the clarity, focus, and direction you need for next year.

The Collaborative closes in:

This course is not open for enrollment.